Planning & Persuasion Tactics
Our main goal was to persuade people in the School of Design to exercise. We conducted research within our group and with each of our families to find out what motivates people to exercise in general. From this research we found that people are motivated by wanting to better their health, wanting to lose weight, and by seeing other people exercise. We were intrigued by this third point and wanted to use this as our main tactic in motivating the School of Design. We were inspired by recent social media challenges and by the reply-all email chains created when someone wins an award in SoD. We decided that an email-thread workout challenge would allow us to create a sense of community and accountability that could be used as motivation.
To incorporate some other persuasion tactics, we decided to construct a story around our challenge. We used Danny to invoke a sense of pity and to trigger people's existing desires to either lose weight or better their health. We framed the challenge to be about helping Danny rather than just about working out to increase a sense of community and compassion. The other tactic that was threaded throughout our intervention was humor. Making the email and the whole challenge into something that was funny allowed us to diverge the focus off of exercising which is something that many people don't want to do. We also thought that this might help us reach the student population better.
Something that we considered and also struggled with was how to appeal to the entire population of both students and faculty. We recognized that this wide audience is motivated by many different things, so we tried to incorporate a little bit of everything with the common thread being about creating a community which is something that everyone can relate to.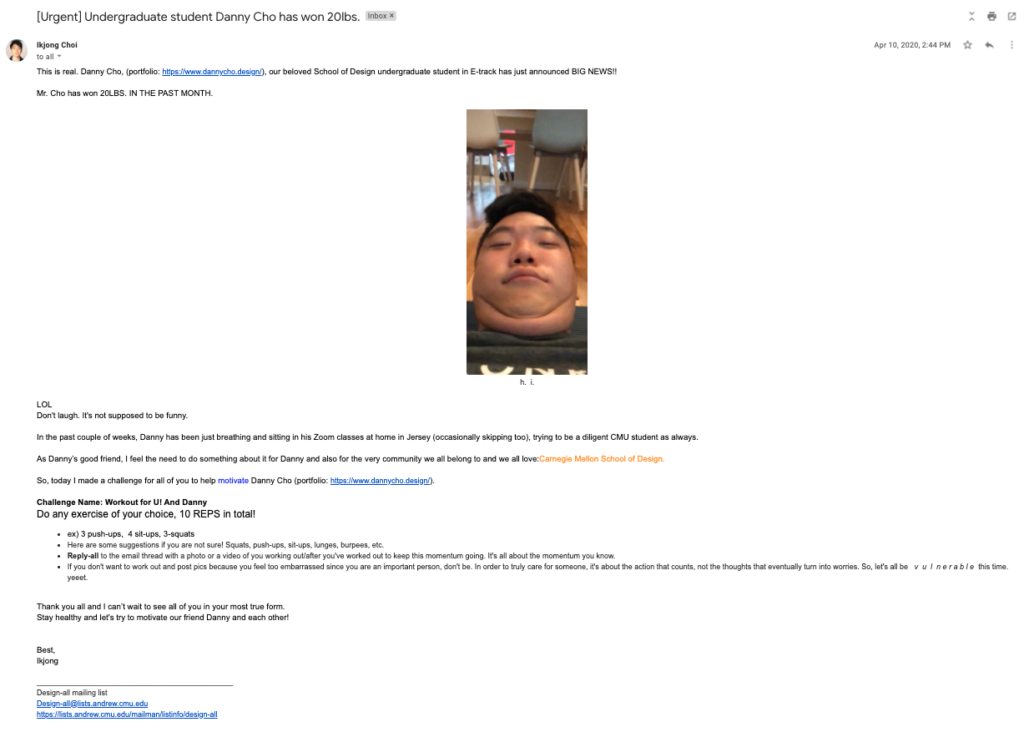 Process & Next Steps
The role we played in this challenge started by creating the story and sending out the initial email to kick-start it in motion. The first couple responses came slowly, so we decided to put our hand in and respond to create another layer of motivation: recognition. We artificially intervened in two additional ways to increase the momentum. First, we individually asked Dan to participate to encourage the professors to get involved and add a layer of credibility to our challenge. Second, we intentionally left Lauren's name out of the challenge so that she could participate as a student to add additional input. After Peter sent out his emails about Oom Yung Doe, the challenge fizzled out. We considered sending out an additional email to try to keep the challenge alive, but did not end up doing so.
Responses
Overall we received 7 emails with photo or gif responses and 3 emails with words of encouragement and workout recommendations. Although we were hoping for a larger number of responses, we were glad to have received responses from undergrad, grad, and professors!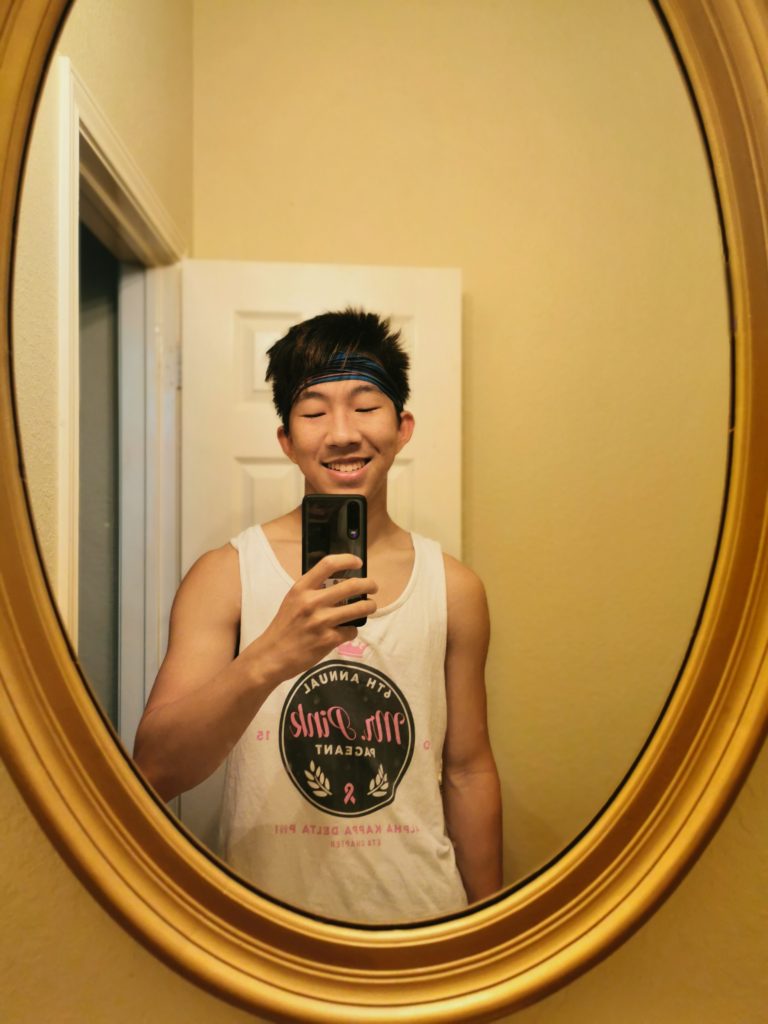 Apr 10, 2020, 2:44 PM
Ikjong (team member, undergrad junior)
Proposing the campaign to entire school of design
Apr 10, 2020, 4:18 PM
Alice (SoD master)
Couple of casual pieces of advice from 3 VERY FIT master students
Fri, Apr 10, 7:46 PM

Ikjong

"Thank you" in response to the previous email
Fri, Apr 10, 8:07 PM
Gary (undergrad, freshman)
A photo of himself in workout-ready apparel with somewhat humorous comment
Apr 10, 2020, 9:19 PM
Ikjong
3 fire emojis
Apr 11, 2020, 10:44 AM
Dan (Professor, pre-planned participant)
Greetings, gif of himself doing sit-ups with his dog, with a casual comment and wishing well
Apr 11, 2020, 12:13 PM
Lauren (team member, undergrad junior)
Gif of her doing squats, good luck, attached her class & track
Apr 11, 2020, 3:53 PM
Eustina (grad student)
Gif of her doing push-ups, the email's influence on her behavior, 
Apr 11, 2020, 4:43 PM
Nick (undergrad junior)
First attribution of the exercise to Danny, humorous gif of him working out, wishing well
Apr 11, 2020, 8:16 PM
Jiaqi (freshman)
Second attribution of the exercise to Danny, humorous comment about not being able to eat less, wishing well
Apr 11, 2020, 9:46 PM
Peter (professor)
Greetings, introducing Oom Yung Doe with a link to free lessons, couple quotes from himself and Yogi Berra, and a relatively lengthy educational explanation on the origin of the quote
Apr 13, 2020, 9:05 AM
Bruce (The head of the school)
A gif of him punching a punching bag, comment providing context regarding his boxing coach, appreciation of the email's influence on him, detailed information about the challenge
Apr 18, 2020, 12:01 AM
Peter (professor)
Message from his OYD instructor_ lengthy intro of OYD's history / effects, links to videos and a Facebook page, pricing, etc.
(Basically an ad)
Group Reflection
Overall, we are pretty happy with the end result of this challenge and also just the journey we took to get to where we are with this. An important lesson we learned was that persuading people is not just one person's job especially when we are trying to persuade a group of people in an organization such as the School of Design. When we are tasked with trying to persuade so many people at once, it can be scary due to the uncertainty and not knowing completely whether what you intended initially would work out or not.

Despite uncertainty and not completely knowing where this whole thing would take us, we learned that us trying to persuade people and making an intervention is only 50% of the job. The rest is up to the individuals/members of the group who chose to trust us and take on the challenge. In that sense we couldn't really control which direction the whole thing would take but that's also the fun part because there's always room for new unexpected things to happen. We have to welcome these serendipitous moments because sometimes that's what the community really needs instead of trying to force feed something that they might not need. 

There is this famous Chinese social media platform YY.com and when they first started this platform, it was specifically made for video gamers to stream themselves playing games. But overtime, other users who were not gamers also started using the platform but in a different manner: they used the platform to perform singing instead. So overtime, more people who are singers started using the platform and the platform is now known for people holding live karaoke contests and just people doing other creative things. Thus, us as designers we have to be open-minded not because we can't predict everything to happen our way but because ultimately what matters is what the community really needs and our job is to perhaps constantly adjust our ways to influence them or guide them slowly but not forcibly through active observations.

As we are closing on this project, I want to say that this was one of the best memories at the School of Design while we were students at CMU. It was just really awesome to see those brave souls doing their thing and I was once again reminded that this school's spirit is still alive. It's just that we sometimes need a little lighter to light the fire.

Lauren, Danny, and Ikjong