As a passionate traveler, Airbnb is one of the online platforms that I actively use. Since spring break is approaching, I decided to do my persuasion topic related to booking an Airbnb home for New York City. I specifically focused on my process of choosing an accommodation and what persuasive elements on the platform influenced me to make my final decision.

First, I searched Brooklyn stays on the search bar and filtered out the homes by inputting the dates I want to stay at an accommodation. Below the filter bars, it told me that 33% of places in New York for my dates are already booked. Due to this, I became more urgent to find an accomodation; I was afraid that all the beautiful homes would be taken. I was not too sure about the algorithm of the order of the accommodations, but it seemed like all the accommodations with "SUPERHOST" badges were on the first page. Looking at the superhost badge on the thumbnails, I was persuaded to save (star) most of the accommodations with those badges in my favorites page. Because of these badges, I immediately jumped to the conclusion that these homes had trusting, reliable hosts with good host experiences. The "Rare find" tags were also persuasive elements that caused me to save. I became curious about why these homes are normally booked.


Scrolling down the page, I noticed that the title on the thumbnail is different for each accommodation. I was attracted to the positive denotations like "Beautiful", "Spacious", "Sunny", "Artsy", and more. The titles that have more character or personality also persuaded me to save. Comparing the titles, "Studio Bedroom Apt in Williamsburg " and "PRIVATE SUNNY Williamsburg Apt", the second title had more personality. Since staying at an Airbnb is more than renting a home for days, accommodations with unique titles caught my eyes more; I saved places where I can have a fun experience of living like a Brooklyn local.

Photos of the Airbnb homes also played a huge role in my process of choosing an accommodation. Photos that were more professionally taken or photos of accommodations with natural sunlight encouraged me to save. After saving all these homes, I went back to each one to look at the descriptions about the space. All the descriptions of the spaces are written by hosts. Some places had little description (little effort was put in), while there were descriptions that are thoroughly written, including frequently asked questions by guests and answers. I filtered out the accommodations with less descriptions because I wanted homes where I can get a grasp of what the experience will be like before actually staying. Trust of the host and safety of the home were very important to me.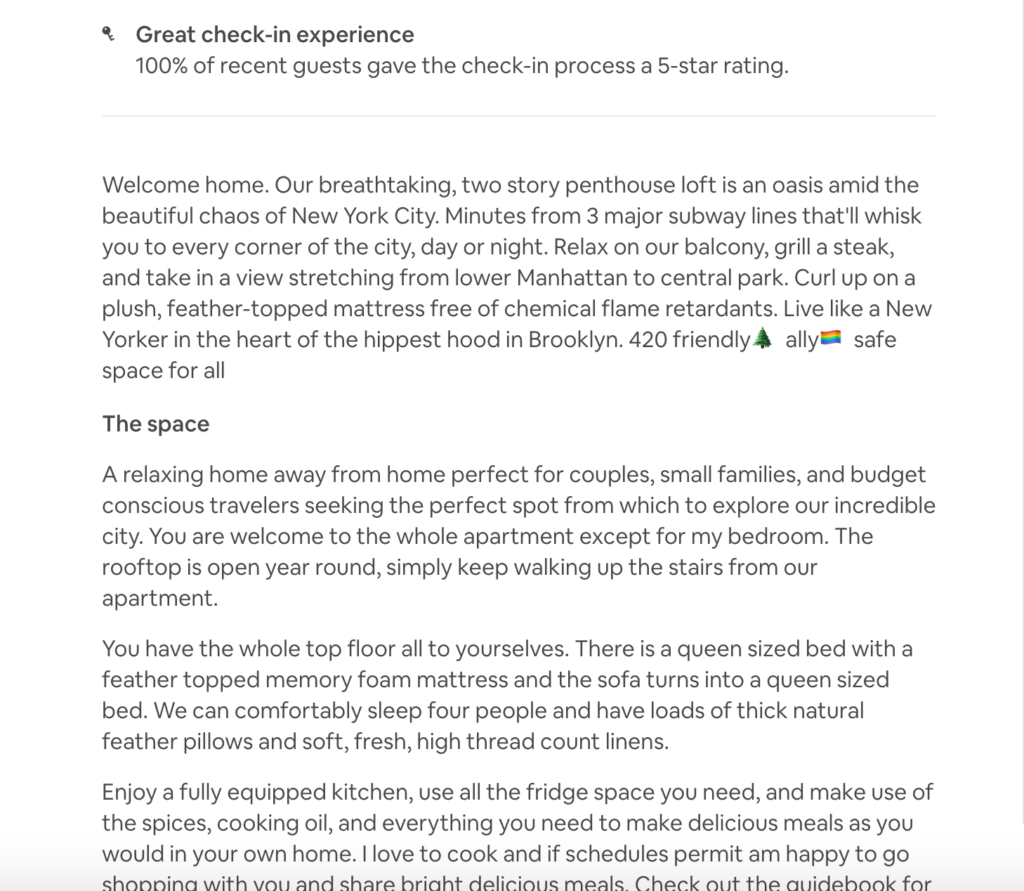 Lastly, I carefully read the reviews of the previous guests. From then on, I filtered out the homes with homes with guests having negative experiences. The reviews mostly discussed the flexibility, communication, and hospitality of the hosts. Looking at the reviews of different homes, there was a mix of . The reviews with more good "personal" experience affected my decision more. For example, I was more attentive to homes with a review like "Host let us have late checkout" or "wonderful location, close to Whole Foods" rather than homes with general reviews like "enjoyed my stay".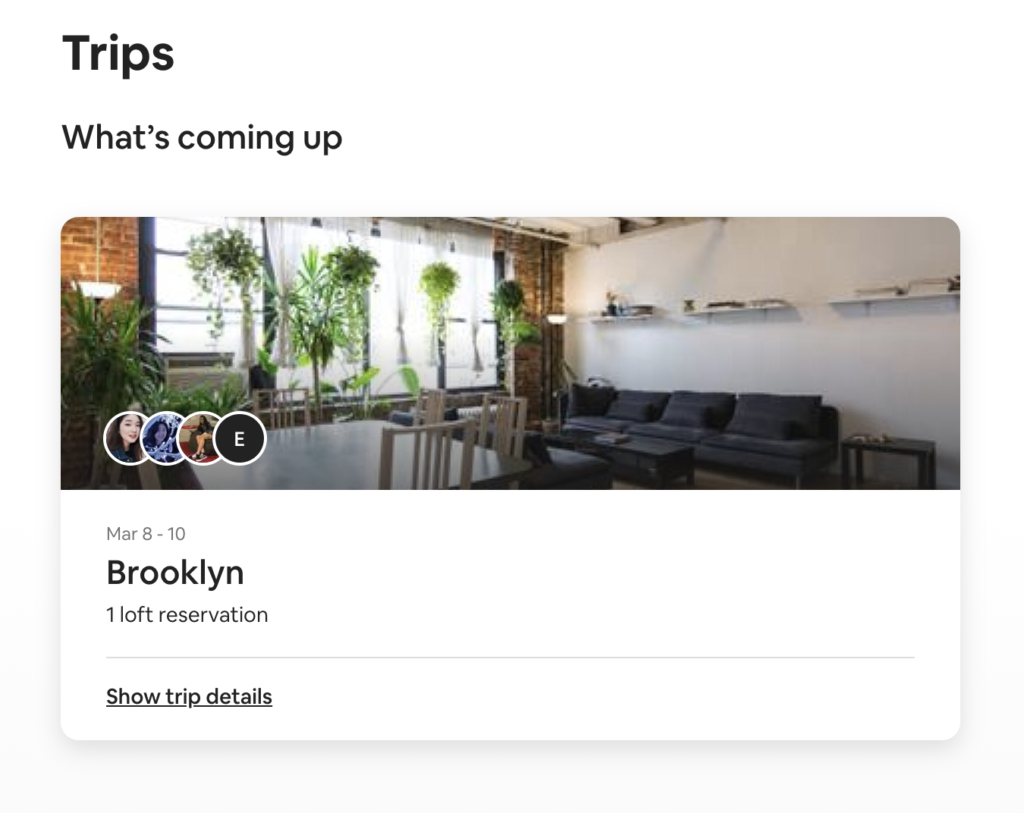 Going through this process, I eventually booked a beautiful Brooklyn home with natural sunlight with lots of plants. There were definitely other factors like photos of the hosts or amenities that persuaded me to make my final decision, but these were the main persuasive elements I wanted to talk about. Working on this assignment made me wonder if Airbnb designers purposely designed the platform in this certain way to affect the behaviors of Airbnb customers.
written by Jenna Kim (jeeyoonk)